Y&R comings and goings for the week of June 13th.
Antione Grant makes Y&R debut as Imani's hot new date, Jill Foster returns too
This week on The Young and the Restless, a new hottie is set to make his debut. Actor Antione Grant, a former Bold and the Beautiful star, will make an appearance in the role of Giancarlo, someone who is going to make a splash at the Chancellor-Winters launch party. Let's find out how.
Jill Foster returns to GC for the Chancellor-Winters launch party
The week of June 13th is going to be very eventful. The Chancellor-Winters merger finally takes form and that calls for celebration.
A special character returns to town to join the celebration. Jill Foster Abbott accompanies her son Billy to the Chancellor-Winters launch party. The event would not have made sense without Jill as we know she holds a special place in the Chancellor Industries. Lily may have pitched the idea of this merger but Jill, the former CEO of Chancellor Industries, is still the real power behind the throne.
Don't forget to catch up on this week's episodes of #YR while we wait for next week's all-new episodes. Watch the latest on @paramountplus: https://t.co/YldkUQpSl0 pic.twitter.com/KYVXQoBBOE

— Young and Restless (@YandR_CBS) June 10, 2022
Another notable guest at the party is Eric Braeden. It would be an understatement to say that no business can launch without his blessing. So he graces the launch party with his presence and showers Lily and Devon with some benevolent business advice.
Imani Benedict attends the event with an attractive new man
The party has several note-worthy attendees but one man catches the attention of all. And that's Imani's hot new date, Giancarlo.
Up until now, it looked like Imani was madly after the town's handsome doctor Nate Hastings. She was pursuing him despite warnings from her sister Amanda. Even Elena talked with her. But nothing seemingly changed her obsession for Nate.
Imani surprises everyone this week with her new date. She becomes the talk of the party as she makes an eye-catching couple with Giancarlo at the party. However, while everybody's focus is on her and her new beau, her focus is somewhere else. You guessed it right! She can't keep her thirsty eyes off of Nate.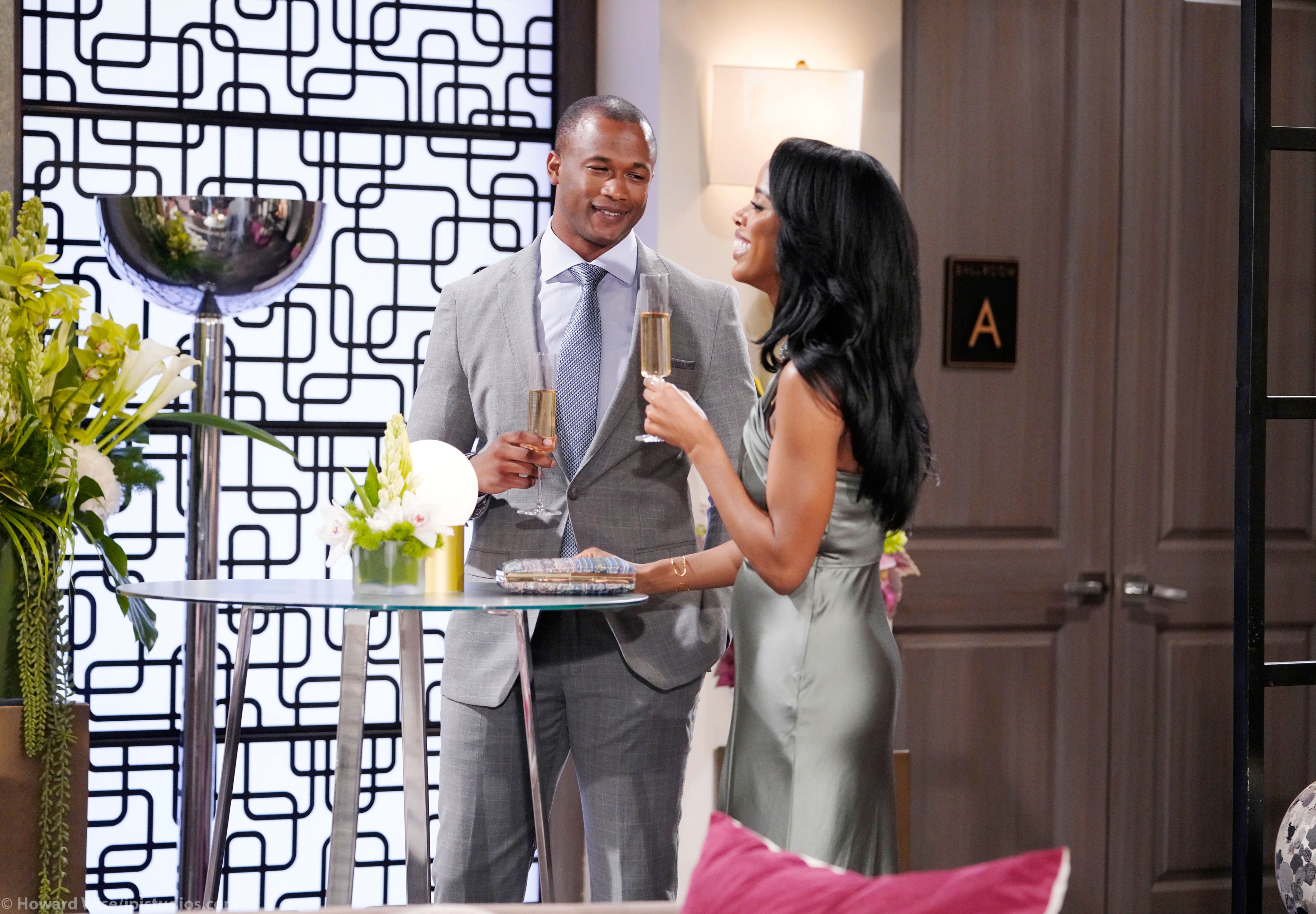 It looks as though Imani is playing a serious game here. All this time Imani has tried to allure Nate with her lustful gaze and open flirting, but she has only received rejections. She does not look like someone who would easily give up. So maybe she's only upping the game by engaging with a new man.
Will Nate take notice of Imani's new man? Will jealousy make him finally give in to Imani's tempting offerings? Perhaps he will. As per Y&R's casting news, Antione Grant will appear in just a few episodes. We assume he will leave once Imani's mission is accomplished.
Speaking of Antione, soap opera viewers may remember him from his role as an officer in The Bold and the Beautiful. A former Disney star and model, Antione has also appeared on General Hospital in a small role. Besides, he has appeared on Investigation Discovery's Deadly Sins, HBO's Westworld, and most recently on Netflix's Family Reunion.