Reylynn Caster has been appearing on Y&R since April 2021.
Meet Reylynn Caster – Y&R's interesting cast member!
We all know Faith Newman as the daughter of Nicholas and Sharon Newman on The Young and the Restless. We're going to tell you everything about Faith Newman and the actress who portrays her.
Who plays Faith Newman on The Young and the Restless?
Faith Newman is portrayed by Reylynn Caster. She made her debut as Faith Newman in April of 2021. She replaced Alyvia Alyn Lind, who played the role from 2011 to 2021. So, who is Reylynn Caster?
Caster was born in Wichita, Kansas on March 3, 2003. She moved to Los Angeles with her family to pursue a career in acting.  Her first appearance was in a TV commercial, when she was 7 years old.
Before moving to Los Angeles to support their daughter, her parents were living in Wichita, Kansas with their three children. Her mother's name is Teresa Caster and her father's name is Curt Caster.
Is Reylynn Caster in a relationship? Who Is her boyfriend?
Caster was dating actor and singer songwriter, Armani Jackson. She reportedly started dating Armani in June 2020. The couple celebrated their one-year anniversary on June 27, 2021. Lately, they haven't posted pictures with one another. Also, they've deleted their old posts on Instagram. It makes us wonder if Reylynn and Armani have broken up.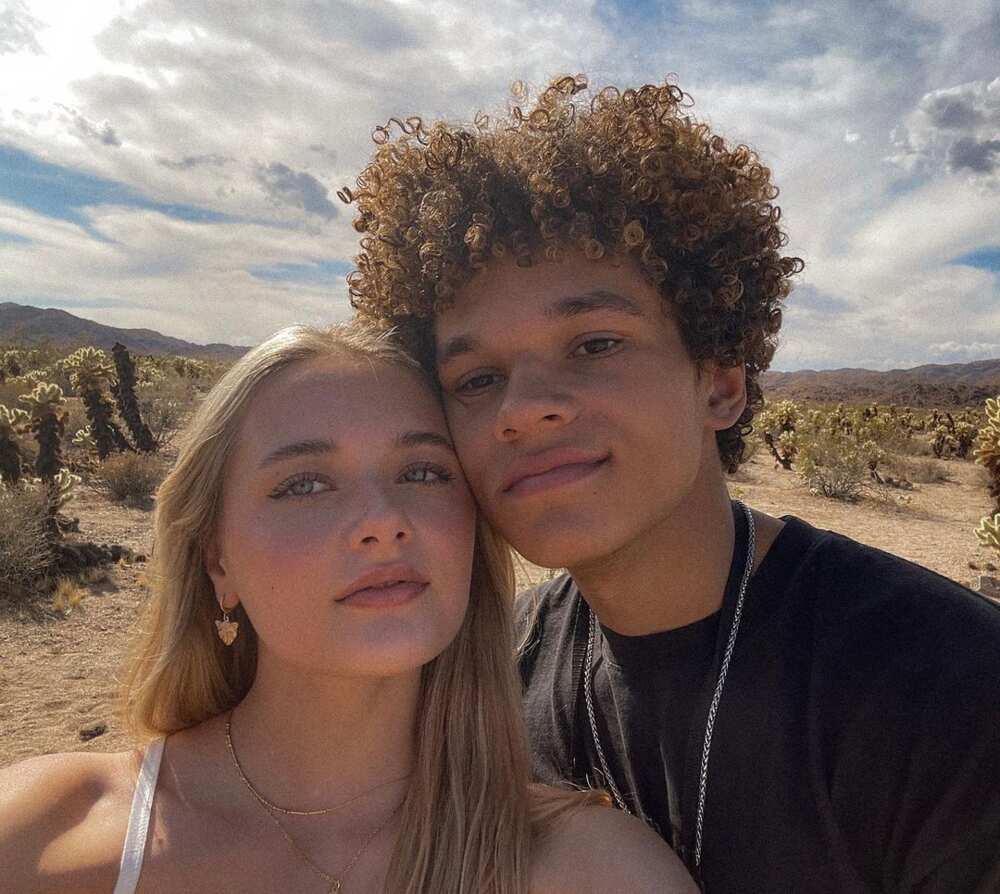 Reylynn Caster's Movies And TV Shows
When she was living in Kansas, Caster starred in a few independent movies like Wichita, Bender, and The Matchbreaker. After moving to Los Angeles, she quickly landed a role on Speechless and Just Add Magic. She then got a role as Nori, a series regular, on Me, Myself & I. In 2019, she starred as Brie on American Housewife. Most recently, she was cast on The Big Show Show in 2020, playing Lola Wight, the oldest daughter of wrestler Big Show.
On The Young and the Restless, Faith Newman is said to be 17 years old. However, in real life, Reylynn Caster is 19 years old, celebrating her birthday on March 3.
Over the years, Faith Newman has been played by many different actresses. What was the reason behind this latest recast?
Why was Faith Newman recast on Y&R?
Before Reylynn Caster took over the role, Faith Newman was played by Alyvia Alyn Lind. Alyvia started playing the role when she was 3 years old. After a few seasons, she started working on other projects. She was signed on to be in a few movies and was cast on Chucky in 2021. Alyvia ultimately left The Young and the Restless due to scheduling conflicts, with her desire to add more acting credits to her name.
View this post on Instagram
Faith Newman was previously portrayed by the Lutsky twins, Madison and Brynn Bowie and McKenna Grace. McKenna Grace temporarily took on the role in 2013 due to Alyvia Alyn Lind's scheduling conflicts.
What Happened To Faith Newman On The Young And The Restless?
Faith Newman got drunk and landed herself in trouble after stealing a truck. She was then involved in a car crash, after which she was taken to the hospital. Faith had to do community service and enter rehab.
Later, she passed out and when she was taken to the hospital, doctors diagnosed her with Acute Interstitial Nephritis. The diagnosis meant she would need a kidney transplant. Adam would be the only match for Faith and she would receive the kidney. After recovering from the surgery, Faith got closer to Moses Winters (Jacob Aaron Gaines) and she decided to stay in Genoa City.
Faith's decision to stay in Genoa City means that the character is not leaving The Young and the Restless.