Adam Newman played by Mark Grossman
Adam Newman's History and Transformation on The Young and the Restless
Adam Newman was introduced to The Young and the Restless in 1995. Over the years, the fan-favorite character has been portrayed by various actors, with Mark Grossman being the latest one to take on the part. In honor of Adam's return, let's take a look back at these 10 facts about the character that most people probably didn't know until now.
The love story of Adam's Parents
When we think of Victor, we naturally think of Nikki. However, if Adam's mom, Hope, was not to leave Genoa City, Nikki may not have been with Victor. In fact, Hope was the only one for Victor until the misunderstandings led her out of town.
Adam almost didn't make it to this world
One of the reasons Adam's parents couldn't save their marriage was because they couldn't agree on one of the biggest decisions of their life.
When Hope was pregnant with Adam, the doctor had warned her that the unborn baby could develop retinitis pigmentosa, an illness that caused Hope's blindness. So Victor wanted Hope to give up on the baby but Hope insisted on going through the pregnancy.
Victor and Hope's divorce
Eventually, Hope gave birth to a healthy Adam with no signs of the retinitis pigmentosa condition. Hope could not get over how Victor insisted on her to get an abortion. So they finally broke up and divorced. Hope decided to raise the child on her own in her Kansas farm, without any influence from Victor.
Adam's birthday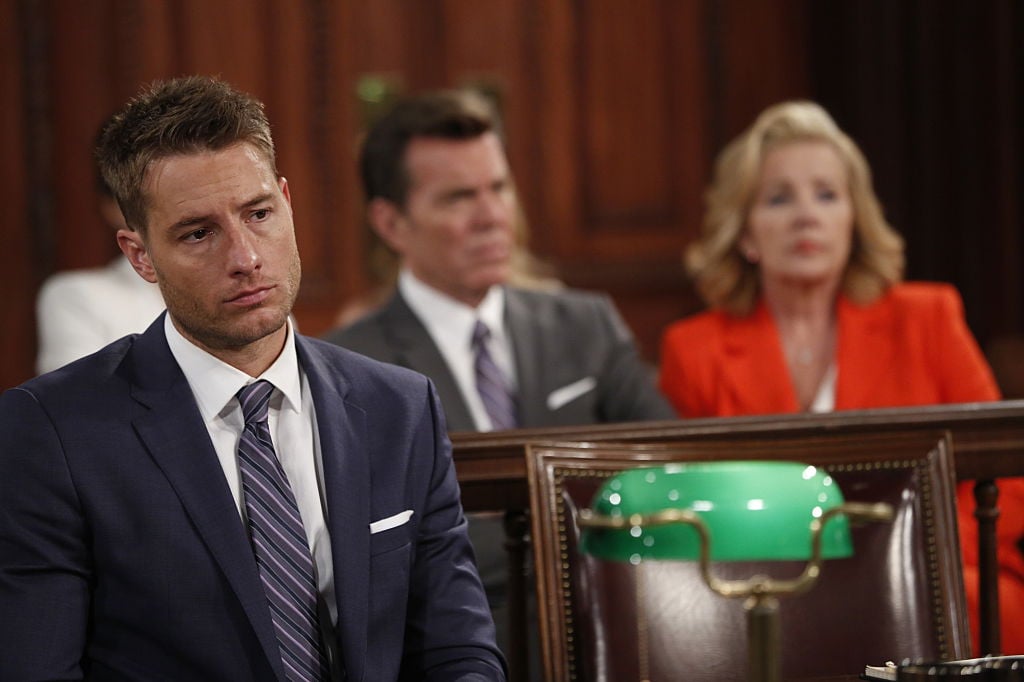 Adam was born on-screen on April 24, 1995. Years later in 2012, it was stated that his birthday was actually April 27th. This brings his true age into question. If we go by the year he was born, he would be in his 20s at this point.
However, the character went to Soap Opera Rapid Aging Syndrome in 2008 and was said to be of 27 years, which means he should be closer to his 40s by now. But Mark Grossman is 33 years old, which implies that his character hasn't aged in a decade.
Before Mark Grossman, the role was portrayed by This Is Us actor Justin Hartley.
Adam and Victor's friendship
While Adam was growing up in Kansas, he was told that Cliff Wilson was his biological father. In the late 90s, when Victor visited Hope's farm to do some soul-searching, he was given the opportunity to spend some time with Adam.
However, he was strictly ordered not to reveal their true relationship to Adam. Victor and Adam developed a close relationship during this time.
Almost Raised in Genoa City
Not long after Victor had visited the farm, Cliff passed away in a road accident. Victor convinced Hope to move back to GC with Adam. So Hope came back but lived in one of Victor's penthouses. However, she once again left for Kansas with Adam.
One of the reasons they moved back to Kansas was due to Hope's blindness. She found it very difficult to move around the town when she was out and about. She was even almost assaulted and had her purse stolen.
Meanwhile, Hope was also upset over Victor and Diane's marriage. Victor had married Diane without telling Hope. So she almost let Adam know who his real dad was but decided to keep the secret and left the town instead.
His parents' reunion
When Victor had epilepsy in 2006, he once again left for Hope's farm to get away from the hustle and bustle of the city. Sadly, little Adam was at camp during this time. So Victor and Hope shared some fond memories together.
Victor searches for Adam
About a year later, Hope contacted Victor asking him for a favor to locate Adam. During that time, Adam was hanging with a bad crowd.
Victor was able to trace Adam – at first in Columbia and then in Sri Lanka but then Adam slipped through his fingers. Even back then, we could tell that the apple didn't fall too far from the tree when it came to Victor and Adam.
Adam learns the truth
View this post on Instagram
In 2008, Hope was diagnosed with carcinoma of the pancreas and she died shortly afterward. Her final wish was that Adam finally learns the truth about his father.
Adam was eventually told about Victor. While Adam resented his father, he ended up following him to GC and joining the Newman Enterprises.
Name changes over the years
When Adam was born, he was named Victor Adam Newman Jr. After Cliff Wilson adopted him, his name was changed to Victor Adam Wilson.
Over the years, he would eventually be known as simply Vic. After moving to GC in 2008, not wanting to live in his biological dad's shadow, Vic changed his name to Adam Newman and the rest is history.