Y&R News: Veronica Redd returns as Mamie Johnson
Soap vet Veronica Redd returns to Y&R to reprise her role as Mamie Johnson | Y&R Comings & Goings
We have a very special comeback this week, and it's our favorite Veronica Redd!!! You haven't forgotten about her now, have you? Mamie is bringing some drama back to Genoa City, and you better be excited. Now, let's jump right in to know the real reason for Mamie's surprise to The Young and the Restless.
Where has Veronica's Mamie Johnson been on Y&R?
The Young and the Restless have been hitting the exact spots recently. They know what the fans want and have been bringing some old characters back to town, hitting us with some nostalgia. Among those characters coming back is our dear Mamie, portrayed by Veronica Redd.
Redd joined Y&R as the recast of Mamie Johnson in 1990. Mamie has always been a special lady in the Abbott family. Starting out as the housekeeper of the Abbotts, she is now an invaluable treasure. She was more of a mother to Jack, Ashley, and Traci than Dina ever was. Although Redd played the character until 2004 and parted ways with them, she made a lasting impact that still carries on. Take a look at this old clip of Mamie being iconic on Y&R.
Mamie Johnson stayed on Jill Foster Abbott's neck.

Can't wait for them to reunite! #YR pic.twitter.com/W6JEaixVj9

— Town and Country Web Soap (@bredrew2) March 24, 2023

Mamie was a game-changer, representing a generation of black folks who refused to play just a shadow to their white bosses. She completely changed how black women were shown on daytime television, going from playing passive roles to becoming powerful and influential characters. That's why the fans are even more stoked to have her back on the screen.
Y&R confirms Veronica Redd's return airdate
According to The Young and the Restless, Veronica Redd will be seen in Genoa City, starting on September 26. Although there is no word on how long she'll be hanging around, we're all hoping it's longer than her quick visit in March for Y&R's 50th anniversary.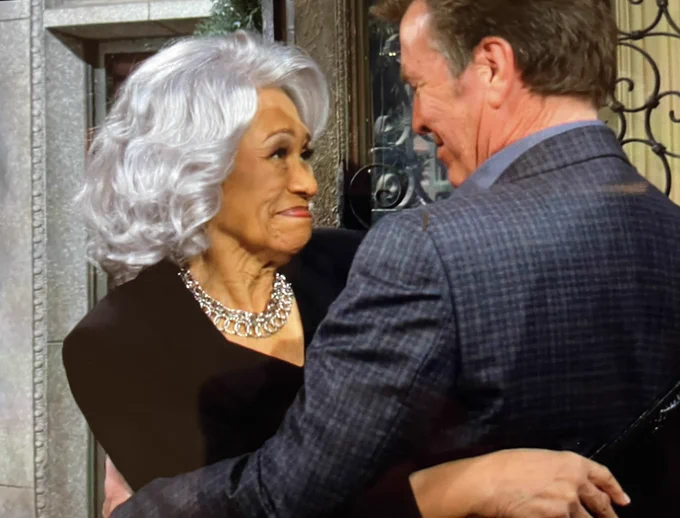 Last time she dropped by for the Bicentennial Gala, Mamie made it crystal clear that she's thriving and is as sassy as ever. She also had this harsh showdown with Jill and then went on to share some sweet moments with the Abbotts and her own family, just like old times. Now, the burning question is, what's the deal with this return? Is it all sunshine and rainbows, or is there some drama brewing? It seems she's back to reconnect with her family, making us wonder if there's more to the story or if she's got some big news to drop. Fingers crossed, it's all good, the last thing we want is trouble for Mamie! But if a little trouble and drama will make her stay longer in GC, then we wouldn't mind either.
Mamie may have a lot to say about the ongoing drama inside the Abbott family. Besides, she could be a savior for some others who are on the wrong path. Lily's romance with Daniel is going through a bumpy patch, thanks to Heather's return. Nate seems to be getting further away from his moral compass as he climbs up the power ladder with his right-hand woman, Audra. So, having Mamie back in town might just be the boost they all need.
The only hope fans have is that her return will last long enough to actually impact the story in some way. Are you excited to have Mamie back? Let us know in the comments below, sharing your favorite memories of the character.