Hollis W Chambers plays Paul Hollis Hollister on the Bold and the Beautiful
Who is hot waiter Hollis (Hollis W. Chambers) on The Bold and the Beautiful?
You must have missed your favorite bartender from The Bold and the Beautiful, who has now finally returned to the canvas. Hollis W. Chambers is back on The Bold and the Beautiful and this time, it looks like he might be staying for a bit longer. Hollis Chambers has made recurring appearances on the show since 2016. Currently, Hollis is involved in an exciting storyline with Katherine Kelly Lang's Brooke Logan. Keep reading to know more about what this means for his character and also find out more about the actor.
What happened to Paul on the Bold and the Beautiful?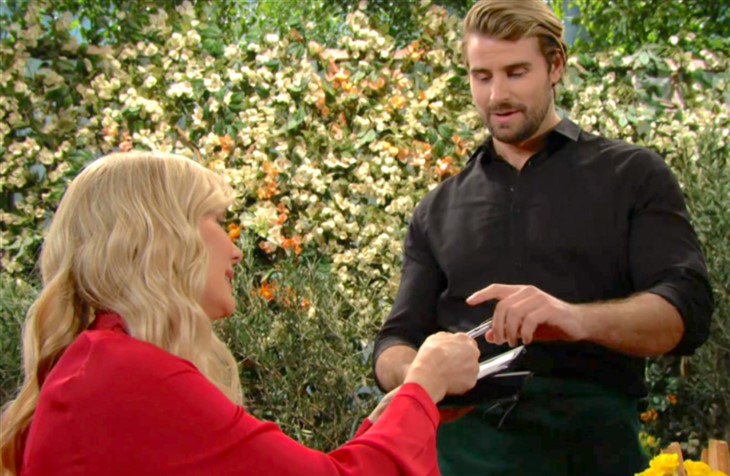 You may remember Hollis W. Chambers from prior appearances on the soap, when his character went by his given name, Paul. The actor starred as a waiter on B&B for two episodes in 2016 and 2017. In December 2021, he was seen informing Deacon Sharpe that the health inspectors were coming to Il Giardino, and the boss wanted the kitchen cleaned from top to bottom. He occasionally appeared as an employee at II Giardino while the characters ate there.
The fan-favorite bartender from II Giardino is back on canvas and will be changing things up for Brooke. On the week of February 20, Hollis W. Chambers reappeared as Paul and approached the table where Brooke Logan and Taylor Hayes were eating lunch to serve them. He introduced himself as Paul Hollister, 'Hollis' to his buddies. He was quick to give Brooke his number and later, Taylor decided to set up a date for Brooke with the man. He has also been appearing in scenes alongside Sean Kanan's Deacon Sharpe, his new boss.
The Bold and the Beautiful episode for February 24 showed that Brooke continued her evening with Paul who is anxious to get to know her better. Hollis revealed he'd had his eye on Brooke for years, but she wasn't available, mostly due to her engagement to Ridge Forrester. Hollis only asked Brooke out because Taylor made it clear that Brooke was definitely available and that this would be a good idea. Fans think Brooke should avoid Hollis since he fell for Taylor's hints and doesn't genuinely desire Brooke.
Who is Hollis W. Chambers on the Bold and the Beautiful?
View this post on Instagram
Fans can't get enough of his charming personality and magnetic presence on the canvas. So, it would be nice if Brooke had an actual fling with the hot waiter, making way for more appearances from Hollis W. Chambers. Apart from his guest role on B&B, Hollis has appeared in a few other television shows. In 2021, he guest starred in an episode of Shameless. Before that, he appeared in Station 19 and Will and Grace in 2020.
Judging by his Instagram posts, Hollis is a certified gym rat and a loving dog dad. You may also notice that he's been hanging out with his co-stars off screen. Apparently, he accompanied Katherine Kelly Lang and Kimberlin Brown on their skiing trip last month. His onscreen date commented under the post, "So great to be skiing again! Thanks for giving me some confidence out there!"
What do you think about Hollis as the next person trying his luck with Brooke? Let us know what you think about the pairing in the comment below.