Chloe plays her game on BFF Sally - Sabotages their friendship for good
Don't trust Adam-Sally-Nick paternity test result AT ALL when it's out! Y&R Spoilers
So it's official! Sally Spectra (Courtney Hope) is pregnant on Young and the Restless! Sally finds out in a recent episode that she is expecting. For now, she decides to keep it a secret from everyone except her BFF Chloe (Elizabeth Hendrickson), which is not a good sign. Chloe may be Sally's best friend. But she is a great schemer as well. And she may end up doing some messed up things to Sally and her unborn kid. How? Let's find out.
Did Sally get pregnant with a Newman baby on purpose?
Not long ago, when Sally and Nick (Joshua Morrow) were having this coffee date on a park bench, she had a sudden curious stomach pain. Nick showed his concern but she brushed it off, blaming the coffee for the trouble. Days passed but she did not feel very good. So she was intrigued to take some at-home pregnancy tests which confirmed that she was indeed pregnant.
Sally can't decide how to react to this so chooses not to tell anyone about it just yet. However, she lets her friend Chloe into the loop. Chloe is stunned by the news and asks Sally if she got pregnant on purpose.Sally assures her that it was an accident but then gives an additional detail that sends Chloe reeling. Sally confides in Chloe that the baby in her belly may be Adam's (Mark Grossman) and it pulls the rug from under Chloe's feet.
We know how much Chloe resents Adam ever since that tragic accident on a highway road that killed her daughter Delia (Sophie Pollono). So Sally telling Adam may be her baby's daddy does not impress Chloe at all. Chloe would not want Adam to be a part of her friend's life. And she may go to some extreme levels to keep that from happening.
Wild Y&R Prediction: Chloe tampers with the paternity test result to keep Adam out of Sally's life for good
Chloe has always rooted for Sally and Nick's relationship. And obviously, she would want Nick to be the father of Sally's baby more than anything. Well, she can't decide who becomes the baby daddy but what she can decide is how everyone sees the result.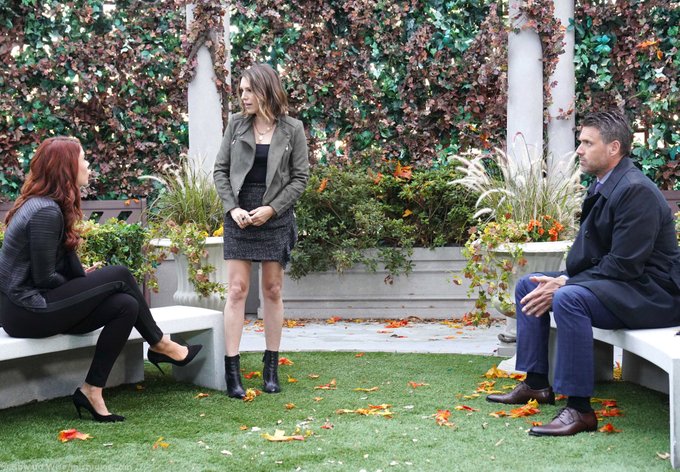 Given that Sally was in bed with both the Newman boys around the same time puts her up for a paternity test. And that is where Chloe may do her trick. With the help of her master hacker husband Kevin Fisher (Greg Rikaart), Chloe may easily tamper with the test result, making Nick appear as the real baby daddy. So, if ever Nick is declared the real dad of Sally's baby, we ask you not to believe it immediately.
At the same time, if the baby turns out to be Adam's, there may be some foul play there too. It's not a secret how desperate Adam was to win back Sally. So he may tamper with the test result to make himself appear as the baby daddy. And also, there's Victor (Eric Braeden). He just hates Sally and would do anything to keep her out of his clan, or at least out of his golden boy Nick's life. So he may mess with the paternity test to make Adam appear as the real dad and keep Sally out of Nick's life for good.
Moral of the story: No matter what comes the result of this upcoming paternity test, just don't believe it AT ALL!!