Adam proposes to Sally for the third time this week!
Adam says "Marry me", Victoria out as CEO, Diane in serious danger | Y&R Weekly Spoiler
As we head into the week of February 20th to 24th, there's plenty of drama and excitement to look forward to on The Young and the Restless. After leaving Jabot, Adam (Mark Grossman) gives his father an ultimatum. Then we have Devon (Bryton James), who turns to Christine (Lauralee Bell) for legal help in his battle against Lily (Christel Khalil) and Jill (Jess Walton). Victoria (Amelia Heinle) gives Audra (Zuleyka Silver) the third degree, and Daniel (Michael Graziadei) is forced to make a difficult decision. Also, Diane (Susan Walters) receives a cryptic message. And finally, Sally (Courtney Hope) gets her hand on the paternity test result.
Spoilers for Monday, February 20
The Young and the Restless spoilers for Monday, February 20 reveal Heather (Vail Bloom) dropping bombshell information on Daniel as he expresses his hope for their better future. She tells him that their reunion is not possible because she's in love with someone else.
The confession breaks Daniel's heart. Then Heather says something more important. She gives him a warning not to hurt Lucy (Lily Brooks O'Briant) anymore. Daniel recalls he has done some awful things to them in the past but promises he's a changed man now.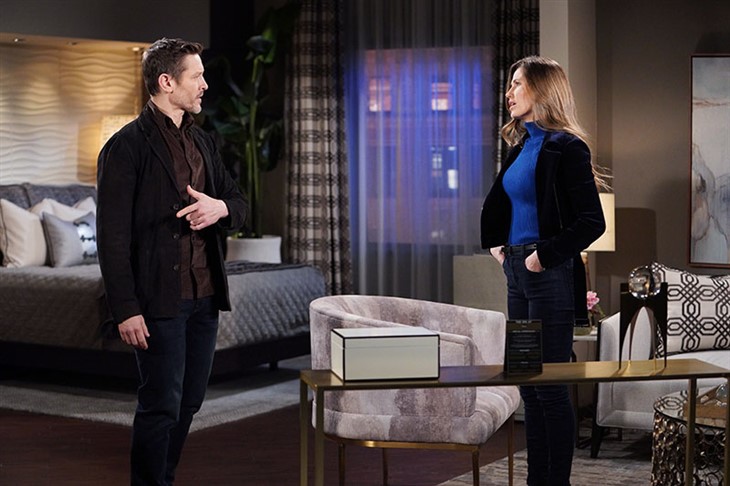 After Heather and Lucy leave, Daniel whines to Lily. But Lily has greater things to deal with like Devon's lawsuit against her and Jill. She is upset that Christine is taking over Devon's case.

For Monday, we have Adam Newman's powerful ultimatum to The Mustache (Eric Braeden). As Victor wanted, he has left Jabot but he won't just join Newman Enterprise right away. He tells Victor that he will accept the job only if he takes over Victoria's job and says he has 24 hours to think about it.
READ MORE: Amelia Heinle teases shocking twist in Victoria's love life, Takes next big step on Y&R
Spoilers for Tuesday, February 21
Moving forward with the week, Sally gets caught between Nick (Joshua Morrow) and Adam. On one side is Nick who says will be there for her no matter what the paternity test result comes out. Nick seems unfazed by the possibility of him not being the actual father of his girlfriend's child. On the other side is Adam, who is taken aback by the news of Sally's pregnancy.
He remarks that it's life-altering news, no matter how you look at it. In an unexpected turn of events, Adam asks Sally to marry him, leaving her to rethink her relationships with both the men.

READ MORE: Courtney & Joshua spill the truth about Sally-Adam pregnancy
Spoilers for Wednesday, February 22
It may not take Sally long to decide who she wants to marry because on Wednesday, she finally gets her hand on the paternity test result. Which Newman boy will become the father and which one the uncle, we will learn the truth this week!
More drama unfolds on Wednesday as Ashley (Eileen Davidson) turns the table on Tucker (Trevor St. John). For weeks, Victor and Victoria have been plotting to buy up Tucker's debt in a bid to take control of his company, McCall Unlimited.
The Mustache recently revealed to his daughter that he would use McCall to lure Adam back into the family fold. But apparently, his plans have gone down in flames. Thanks to Ashley, who secretly bought all of Tucker's debt and surprised the hell out of everyone. Audra receives the third degree from Victoria as a result.
READ MORE: Zuleyka Silver (Y&R's Audra) lands exciting new NETFLIX role | Leaving Y&R?
Spoilers for Thursday, February 23 & Friday, February 24
Towards the weekend, we will see some serious efforts being made from Kyle (Michael Mealor) and Nate's (Sean Dominic) side to reconnect with their respective families. Kyle seeks forgiveness for Summer and Nate wants to get back with his herd.
Elsewhere, Diane receives a cryptic message from an intimidating person. Jeremy Stark (James Hyde), the notorious criminal she and Jack got behind the bars, is once again in the wild. And it's not good news for the pair. How do you think Jeremy will seek his revenge? Share your thoughts in the comments below and keep watching Trend Street for more spoilers and news from your favorite soaps and actors.