Katherine Kelly Lang is all in for Brooke!
Katherine Kelly Lang Confirms Her Stay on 'The Bold and the Beautiful' for the Long Haul
It has definitely been a longtime since Katherine Kelly Lang started playing as Brooke Logan in Bold and the Beautiful. But just how long will she keep doing this gig? Well, we finally know now because in a recent interview she revealed how long she will be playing her character. 
You know, when it comes to The Bold and the Beautiful, Brooke Logan is basically the OG. Katherine Kelly Lang has been on the show since day one, just like her co-star John McCook who plays Eric Forrester in B&B. They are the only two original characters still remaining on the show and it looks like they are in for the full ride, for better or for the worse. Eric has been busy trying to prove that he has still got the game in designing and has power, no matter the age. Whereas, Brooke has been doing a full circle with Ridge and getting ready to remarry him. So, you know she has a lot going on too and looks like some more is coming to her storyline. 
Lang has been on B&B journey playing as Brooke Logan since 1987 and it does not look like she is stopping anytime soon. Plus like can you imagine B&B without Lang? Because we sure can't! I mean she said it herself and now we don't need anything else. And all those fans, who have been worried sick thinking about if she was leaving the show, you are all in for a treat.
In an interview with Australia's Studio 10, someone from the audience popped a big and very important question to Lang. They asked her if she was sticking around for the 40th anniversary of The Bold and the Beautiful which is in about 4 years, 2027. Then waving her hand Lang replies, "Oh yes.! Maybe the 50th! The 60th! I love the show. I'm really grateful to be there. I just can't believe after 36 years I still love it more, even more! Actually, I love it even more than I ever have." She's basically telling us she's married to the show and can't imagine life without it just like us.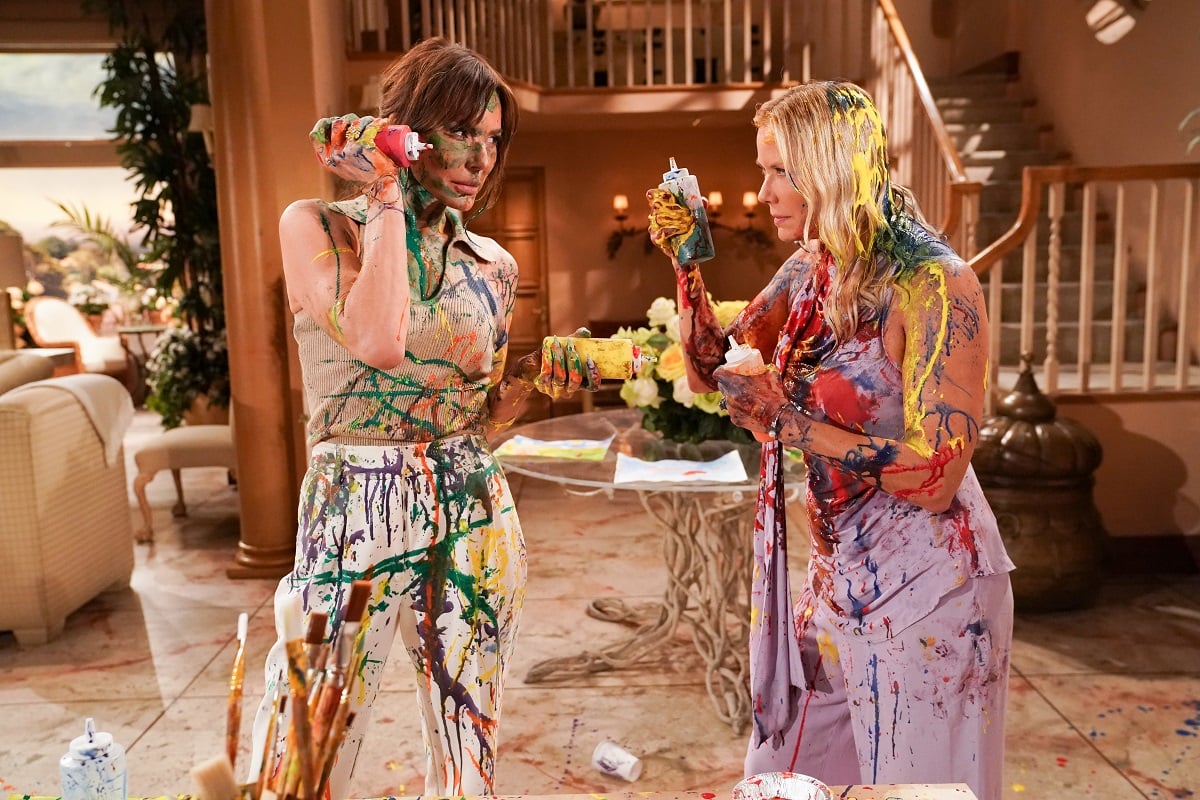 So, guys, Brooke's not riding off into the sunset anytime soon. We're talking at least another four, maybe 14, and heck, why not 24 years if Lang gets her way? And let me tell you, that means we're in for more rounds of the ever-revolving "Bridge" merry-go-round, as long as Ridge is still around to back her up. In Lang's own words, the show is like a big ol' blessing to her. It's where she's grown up, and she's got no plans to pack her bags. She's standing firm, saying she'll be there as long as humanly possible. Now, we can rest assured she is here for the long haul but what about McCook who has been here since day 1 too?